July is the Open Your Heart to the Hungry and Homeless Food Shelf Challenge, a time for food pantries around the state to bolster their food shelves when food donations are low, and there is a high demand for support. Every monetary contribution we receive in July will qualify 360 Communities for proportionally matched grant money. The more money we raise, the larger portion of the pool of grant money we will receive — up to $4,000!
Burnsville Food Shelf customer Tom credits 360 Communities with making healthy food choices easy for him. "It's nice to be able to eat more. This was an opportunity to get healthy food in my diet that I never allowed myself before." Tom, who is on a fixed social security disability income, says cost is a barrier to eating healthy since the healthiest items in the store are usually the most expensive.  With access to healthy food at the Burnsville Food Shelf, he says he can manage his health challenges and lose weight. 
Can you help us raise $20,000 in July to support our network of  food shelves? Your contributions will not only impact hunger but will also affect the health and stability of your neighbors.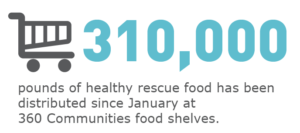 Other customers of 360 Communities' food shelves appreciate the choice model shopping experience and also the healthy food that is available to them. In a recent survey conducted by Hunger Solutions and SuperShelf, our customers reported positive reviews of the nutritious food support they received at 360 Communities:  
"My husband is laid off normally just for winter, so I have to utilize what resources I can to feed my family. Thank you so much for being here and helping out my family."
"It helps provide food for meals that I cannot afford on my own."
"I am very sick. I can't afford to buy the healthy foods that help me stay as well as I can. The food shelf provides this … Your food shelf is wonderful, kind, and helpful to people in every way. Thank you for giving to us."

 

"It helps supplement my food budget. I am on disability … we pay a lot towards our medical bills."
360 Communities strives to provide a healthy and dignified shopping experience for its food shelf customers. The Open Your Heart to the Hungry and Homeless Food Shelf Challenge is a wonderful time to support your local food shelves.
Other ways you can support 360 Communities during the month of July
Valley Natural Foods Register Round-Up
Valley Natural Foods in Burnsville has selected 360 Communities as a Register Round-Up recipient for 2018-19!
In July, Valley Natural Foods customers will have the option to "round-up" their purchase and support 360 Communities! In addition, the store will collect food donations for 360 Communities from July through September, and then again form January through March of 2019.
Fresh Thyme Giving Bags
We are excited to share that 360 Communities has been chosen by the Savage Fresh Thyme as the latest beneficiary of the Fresh Thyme Giving Bag Program! Every time the reusable Giving Bag is purchased at the Savage Fresh Thyme during the month of July we will receive a $1 donation. Please visit the store located at 14100 Highway 13 South in Savage and buy the reusable Fresh Thyme Giving Bag.
This is a fantastic opportunity to help 360 Communities provide more healthy food to its food shelf customers!
Run your own Facebook fundraiser for 360 Communities
Did you know Facebook makes it easy to collect donations for your favorite charity? Watch list short video clip to get started: