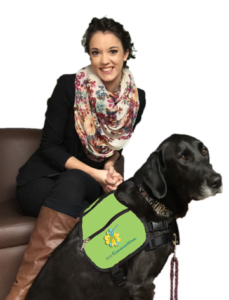 An exciting 360 Communities initiative involves a creative way to provide survivors of abuse additional support. We are working with an organization called Pawsitive Perspectives Assistance Dogs (PawPADs) that trains service dogs to respond to traumatic events, like mass shootings or disasters. 360 Communities will have a victim support dog named Ranger, pictured to the left with Outreach Advocate Stacie Burke. Studies have shown that the simple act of petting an animal lowers blood pressure and encourages well-being.
360 Communities is the first domestic and sexual violence program in Minnesota to have a victim support dog to help survivors cope with stress and anxiety. Ranger has experience providing comfort in the aftermath of the Sandy Hook Elementary School massacre. In his new role, he will:
Provide comfort and emotional support for victims experiencing trauma.
Be trained to sit on or near the feet of the victim/survivor in court.
Be available to be pet by the victim to ease anxiousness in various settings, including law enforcement interviews, preparation for court testimony, and one-on-one meetings with advocates.
The initial cost to launch this valuable new resource for our clients will be $9,500 for the first year. We need the community's help to fund this. If you would like to contribute to this initiative, click the button below and select "Ranger's Fund" from the drop-down menu.